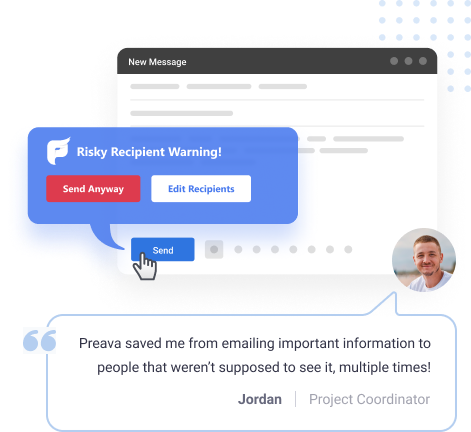 PERSONALIZED IN-THE-MOMENT WARNINGS
Timely alerts that heighten user awareness
Your users are alerted of risky email recipients after pressing 'Send.' With the help of dedicated machine learning algorithms, Preava Prevent's user interface (UI) is dynamically personalized to each of your users, based on their risk profile and situational data. This industry-first approach ensures your users' attention is where it needs to be — on helping protect your organization's proprietary and sensitive data.
By notifying users just-in-time, Preava has made productivity compromising email bounce-backs a thing of the past. This efficiency promoting architecture heightens user awareness, improves user security hygiene through contextual education, and ultimately, decreases email data breach risk.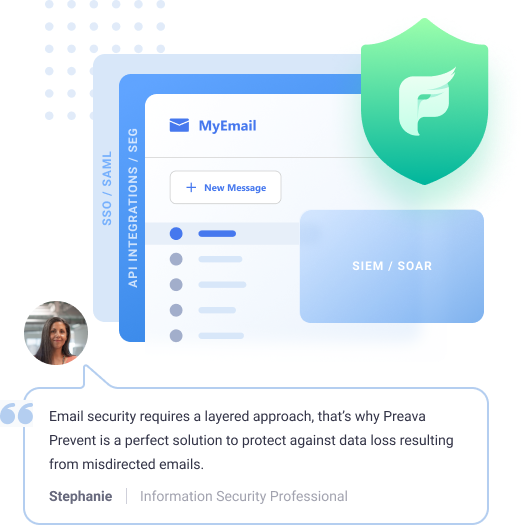 PLAYS NICE IN YOUR EMAIL TECH STACK
A critical DLP layer for email data protection
Operationalize Gartner's recommended multi-layered approach to email security and protect against data loss and costly damage resulting from emails to unwanted recipients.
"Security professionals have known for years that, due to its importance as an attack vector, email security requires a layered approach."
(Gartner's 2020 Market Guide for Email Security)
Preava Prevent plays nice with API-integrated email add-ins, Security Email Gateways (SEGs), and other technologies in your email tech stack. Its protection is unaffected by an expanding security perimeter, including shifts to a distributed and remote workforce.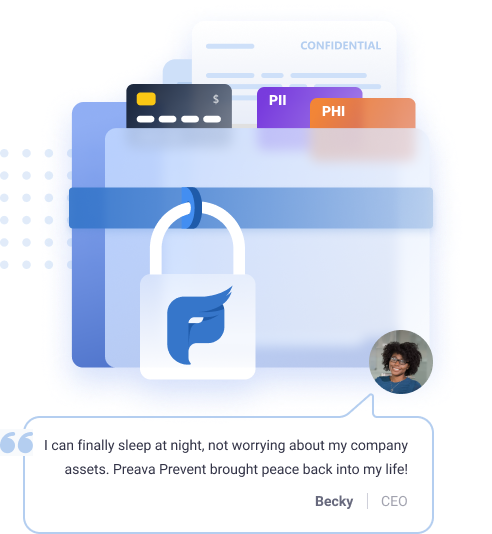 EXCEEDING EVEN THE STRICTEST REQUIREMENTS
Tailored to your exact specifications
Preava Prevent is engineered to provide robust protection against accidentally or intentionally misdirected and misaddressed emails from day one. Optional calibration through custom rules tailors protection to your precise specifications.
For organizations with unique or particularly demanding security and privacy needs, our engineering and implementation teams can develop custom features and configure custom deployments to meet even the most demanding requirements.
Whether you require customizations or not, Preava Prevent is engineered to operate as a set-and-forget solution that doesn't require ongoing maintenance — making it a top choice for fast-paced IT and InfoSec professionals.
YOU'RE IN TRUSTED HANDS
Advised by Top Privacy Lawyers
Preava is funded and advised by VeraSafe — one of the largest boutique privacy-compliance consultancies in the U.S.

For over a decade VeraSafe has been re-imagining privacy and data protection compliance services. VeraSafe's team of attorneys, privacy professionals, and IT security experts provide Preava with world class guidance.