INTEGRATIONS
Preava Prevent
for Gmail
Avert data breaches and reputation damage caused by employees emailing unintended recipients.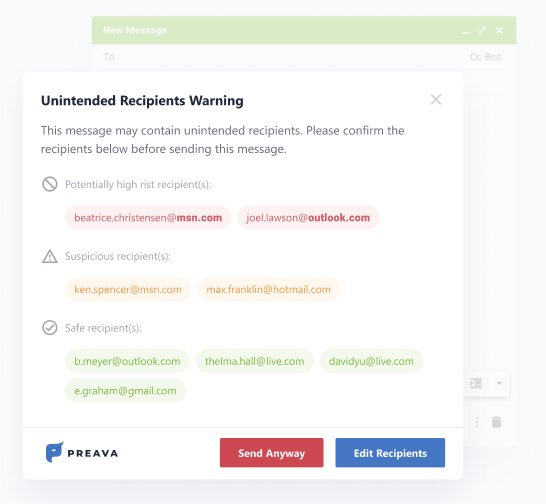 PROTECT CLOUD OFFICE
The move towards cloud productivity solutions like Google Workspace (formerly GSuite), has enabled companies to move away from on-premise email servers, reducing costs, administrative headaches, and data security risks.
PREVENT HUMAN ERRORS
Current data security controls built into cloud-based email solutions fall short of protecting your organization against misdirected emails caused by your employees
REAL-TIME PROTECTION
Through predictive behavior modeling and customizable rules, Preava Prevent is the only dedicated solution for Gmail that empowers employees to correct mistakes before an email is sent.
EMAIL ADD-ON
Preava Prevent is an easy-to-install add-on for Gmail, personalized for each employee based on historical and predictive behavior.
How to Start Using Preava Prevent